Undoubtedly, every company in the market wishes to have a perfect customer experience. This is an inevitable truth, yet not many of those companies are even moving an inch toward that goal.
If you are going to accept all the challenges and improve your customer experience, it is good to know that building a customer experience team is one of the main pillars of your success. Having an owner for your customer experience is the missing piece of the puzzle for most businesses as this team can take care of almost everything related to your customer experience, from gathering data to analyzing and translating them into actions and following them up until a tangible result. So, why hesitate to form a well-structured CX team in your company?
Have you finally decided to build a Customer Experience Team to transform your business into a more customer-centric one? Then read this article until the very end as you will know whom you should hire and what skills you should look for.
What Roles to Include in a Customer Experience Team
Now that your company came to the decision of forming a customer experience team, the number one priority should be to wisely fill the ranks. There are numerous skills in the customer experience area that although they look dazzling, not all CX teams may need them at the ground zero. While our article "The Ultimate Guide to Customer Experience Management Jobs" can give you a perfect idea about each of those skills and specialties, this part of our guide provides you with a bigger picture.
Customer Experience Team Leadership
This role can simply be filled by a Chief Customer Officer, AKA CCO, a Vice President of Customer Experience or a Customer Experience Team Lead, depending on the hierarchical approach of your company. Regardless of what the position is called, the leadership of a CX team has to be equipped with more than just pure customer experience knowledge.
A C-level executive of CX is responsible for spreading the customer-centricity culture within the company as well as paving the way toward customer satisfaction. This can only be done with mastery of analytics and strategic skills as well as a deep understanding of the business and all its engagements with customers.
Voice of Customer Manager
Either as a director or a middle manager, the owner of VoC is the one who leads the procedure of extracting patterns and needs out of the customers' voices. Also, the actions suggested by the VoC manager and her or his team helps improve the customer journey throughout the business.
The bigger the business, the more complex the task, so this position needs to be filled with people with exceptional skills and knowledge.
Customer Experience Analysis Circle
The inevitable part of every CX Team. The transformation of raw data into the true needs and translating them into business and product language is something vital for the whole CX process. This circle will carry out this task through a deep understanding of the analysis and the business itself.
Customer Experience Writing Circle
Either as a person or as a team or for a physical or a digital product, this team hand in hand with the CX design circle can make or break the customer experience. This is due to the fact that most of the time the journey which is deeply analyzed, optimized and strategized by various experts and specialists in customer experience, the voice of the customer or analysis has to be delivered by these two teams.
The Customer Experience Design Circle
This team is especially needed for companies with digital products, where every user or customer interaction should be optimized to ensure customer satisfaction. This sub-team can be either led by a CX design team lead or directly by the CX director.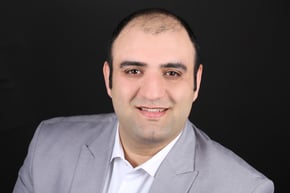 Siyavash Heidari
Data-driven, strategic, and innovative digital marketer, experienced in developing and coordinating the online presence of brands across various channels and developing campaigns to increase traffic and drive revenue. Equipped with superior SEO and content marketing skills, organic and paid marketing strategies, and product marketing techniques.