Beyond 2022
Every new Pisano team member starts their first day at Pisano with the vision below. Learning what Pisano is and what we stand for.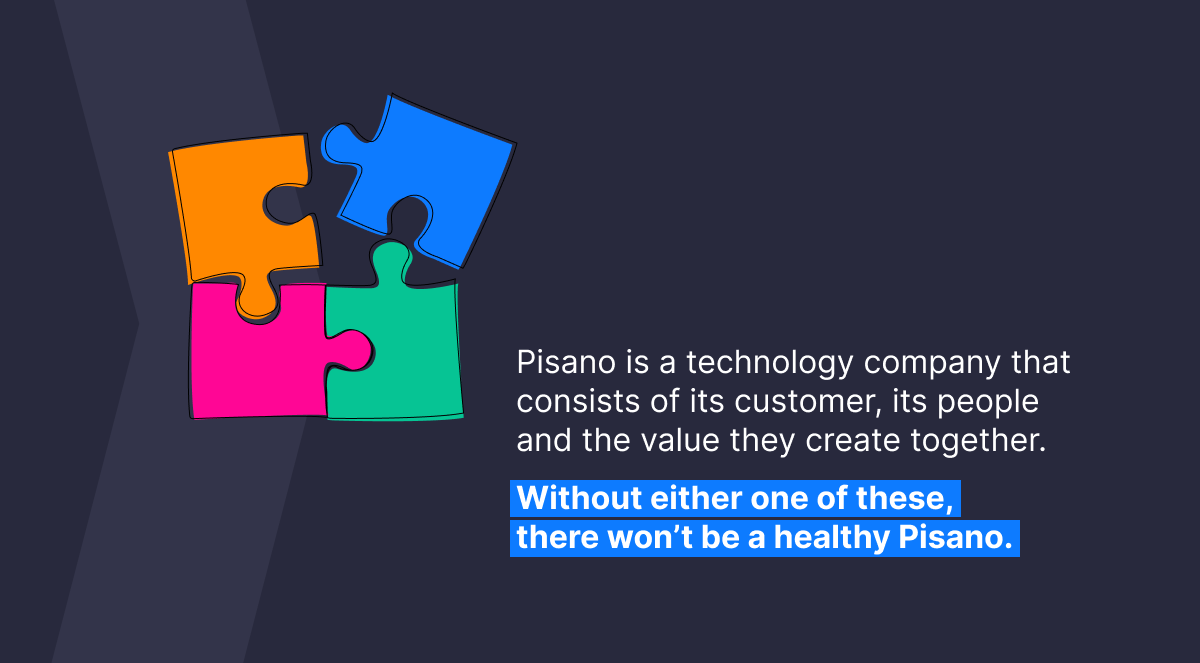 I would also like to start my year in review by recognizing and congratulating everything our beloved customers and team members have done throughout the year.
2022 was a difficult year in terms of talent markets. In the first half of the year, many companies around the world got into a talent acquisition race. We witnessed incredible offers and packages that we have never seen before. However, by the second half of the year, we have seen various news from the big tech laying off thousands of their staff due to inflation and pressure on their efficient growth and profitability. Meanwhile, at Pisano, we had ~60 people joining our team in 2022 (which is ~30% more than what we had in 2021), helping us expand our team by more than 2X. Although we had doubled our team with many new people, we reached out to an unbelievable, hard-to-beat 98,5% team satisfaction rate this year. We also had 15 people promoted within our team. We are thankful to have had a chance to work with such brilliant people.
2022 was also a year of growth in terms of revenue, market share and customers. In 2022 we had 20+ enterprise customers coming mainly from Banking, Insurance, Automotive, Telecom and Retail sectors. We are now closing the year with 2X growth in our subscription revenues in USD, hitting the level of growth set by the best SaaS companies at our stage. We are so grateful to our Business Unit Managers (General Managers of their industries) and our customers, that supported us at every opportunity. Beautiful people are doing such an amazing job.
Almost by definition, when a business doubles its human resources and acquires a high number of new customers, chaos starts to emerge in it. This is one of the few business problems that growth does not solve — in fact, it is caused by growth. At Pisano, we focused on our core values. Our team, our customers, and the value that we create together. Our Delivery team showed exemplary leadership and took the initiative of Fast Track customer onboarding to better the experience.
It was almost mission impossible, given our customer profile, depth of our deployments, number of integrations and depth of our platform capabilities. But they have done it. We had a customer going live in 4 days; we had another customer going live in about 15 days in more than 10 countries. We had many customers going live under or about two weeks. We still have many customer deployments that take much longer due to the nature and scope of the projects. Thus, we still have a lot to improve. However, we have seen that our dreams can come true. One day, maybe very soon.
While talking about the experience of our customers, 2022 was also the year in which our customers shared their voices and their transparent feedback with us at Gartner Peer Insights, a platform where like-minded Experience Management professionals reflect their experiences and validate the performance of their potential business partners with people that experienced the same service previously. To be honest, the Pisano Gartner Peer Insights page became one of my addictions in 2022 and I started to check it every day.
See Pisano's reviews on Gartner Peer Insights
When sharing their Pisano experiences out loud, some of our customer case studies also got the attention of global market research companies and media. Just a wake-up call. As we grow together and keep creating such value, I am certain that we will dominate these outlets in 2023 and beyond. Very well-deserved recognition for the efforts of our customers and our team working together.
See the Success Story of Pisano and Sodexo Partnership
See the Success Story of Pisano and Coca-Cola Partnership
2022 was also a good year at Pisano Academy. By the beginning of the year, we were very hesitant about our Academy activities. Although our community was fed up with online events and activities, many people were still mindful and careful about restrictions, traveling and in-person events. Under these circumstances, we had a year that really challenged our agility.
In the very first half of the year, we focused on creating good quality content and wished for a second half in which we could have more in-person interactions. Our wishes came through and we had our CX Day 2022 event as our last digital event of the year. It was a good full-day event where we had more than 500+ unique people follow the day.
We then said now it is the time to meet our community that we missed for quite some time. So we brought the CX Breakfasts concept live and had more than 300 people joining our breakfasts since September, sharing experience and knowledge, connecting and networking with like-minded people and developing the CX maturity of our markets together.
We had also published our EX Glossary which will hold the basis of EX awareness and development around the world. I used only one sentence (except this one) for EX this year, but I would highly recommend following Pisano Academy for EX. The next year we will talk a lot more about EX; many more interesting things are coming soon.
2022 was also a good year at Pisano in terms of Product Development and Engineering. We had 35+ new people joining our product and engineering teams, which significantly increased our delivery in developing new product features as well as release quality. Although I cannot stop myself from talking for hours and writing for pages about our new features and functionalities at Pisano, I would highly recommend both our existing customers and any professional of our beloved Experience Management market to request a demo from our teams to experience them all by yourselves; full of excitement.
Last but not least. This year at some point, I thought that we needed to re-write our Pisano Virtues, our constitution. I thought the 3rd and inevitable leg of our definition of success is and should be our partners. This year we had onboarded 10+ new partners for both creating values together and also delivering the values that have been created already. With some of our partners, we started to offer Pisano solutions as Experience Management as a Service (XaaS) with a very innovative approach becoming a part of their solutions. There is a lot more to come in 2023.
Learn more about Pisano Partners
Beyond 2023 – A Year of Partnership
2023, a year of Partnership. Partnership with the true meaning, surrounding Pisano with our Friends that work with us, by any and all means, creating value together like our team members, like our customers and like our partners.
Beyond 2023 we will prioritize our team members, our customers, and our partners, by listening to them and working closely with them to create more value together.
As we started, I would also like to end my year in review by recognizing and congratulating everything our beloved customers and team members have accomplished throughout the year.
Looking forward to working with you all in a year of true Partnership.