One of the most anticipated events of the Banking World is without a doubt the World Retail Banking Summit and this year's edition was held at the exciting and lovely city of Dubai, UAE!
The main theme of the conference was surrounded around Digital Transformation and the challenges facing the ways of the traditional world of Banking in an ever changing and digitizing world of disruptors known as Fintechs!
Here are the top 4 things you have missed at the World Retail Banking Summit 2019 by EFMA:
Importance of Digital leadership and governance:
Bidyurt Durma of DBS Singapore and Evans Munyuki of Emirates NBD shared some valuable insights on how they have overseen the Digital Transformation of their respected institutions. They pointed out how the support of the executive suite as well as embracing the Agile Development approach coupled with the right talent and changes in the corporate culture have worked wonders for them.
They have also stressed the importance of having to establish an ecosystem of disruptive partners may help to overcome some obstacles which might be hard to overcome by huge entities such as banks.
An important theme was also determining whether to change the whole structure of the organization by building it from scratch or creating an outside disruptor that would challenge the parent company.
Open Banking and Challenges FinTechs Present to the Current Banking System:
Supaneewan Chutrakul of Kasikorn Bank of Thailand talked about how K-Bank has created itself an ecosystem of partnerships with existing startups that allowed them to provide their freshly developed products in a product partnership model that would allow K-Bank to integrate itself into the Digital Ecosystem of the Customer and remain relevant in an ever changing and digitalized world.
Bringing new methodologies to the project floor stories of transformation and adoption:
Aref Al-Ramli of Mashreq Bank has talked about how with the emergence of smartphones, the actual journey of a customer had changed and coupled with the emergence of the tech giants and disruptive startups digitalization became a thing of reality. Aref argued that banks, in general, arrived at a tipping point in which if they don't adapt they faced the risk of being obsolete just as Blockbuster or other giant companies of the old world. Having realized this Mashreq Bank adopted to this digitalized world and undergone a transformation on a corporate level allowing them to change there complete banking and product approach into an agile framework, allowing to gain the speed and responsivity the consumers of today demand from all suppliers.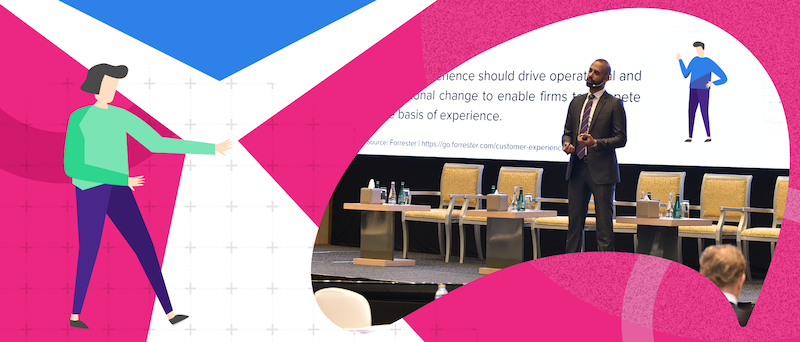 Of course, as Pisano, we took the stage with our very own Ahmed Al Sadek to talk about the secrets to deliver world-class customer experiences in 2019.
We talked about how today's customer experience management is a complicated structure where multiple tools and departments are involved in the measurement and reporting stage of the job. How this isolated approach causes internal silos and major communication issues as well as underperforming business units and unsatisfying experiences for the customers…
We stressed out the importance of a centralized CX management scheme and a centralized tool capable of engaging the relevant personnel with the customer to resolve issues or provide guidance as well as create a single view of the customer to see all the past interactions a customer may have had with your organization throughout their lifecycle and a platform capable of reporting all that is going with your customers with all the necessary insights and data on different levels varying from store managers to senior or even executive management.