In a remarkable achievement, Pisano, the leading VoC and VoE solution provider, has been declared a leader in the Voice of the Customer (VoC) market according to the SPARK MatrixTM analysis conducted by Quadrant Knowledge Solutions. The fact that Pisano is the only non-unicorn leader in the market to reach such a milestone, magnifies its importance.
The SPARK MatrixTM provides competitive analysis and ranking of the leading VoC vendors, offering strategic information for users to assess vendor capabilities, competitive differentiation, and market position. Pisano's comprehensive technology, as a renowned Voice of the Customer (VoC) solution provider serving businesses worldwide, has received strong ratings across technology excellence and customer impact. This recognition reaffirms Pisano's commitment to excellence and innovation in the global market and showcases its ability to meet customers' evolving needs.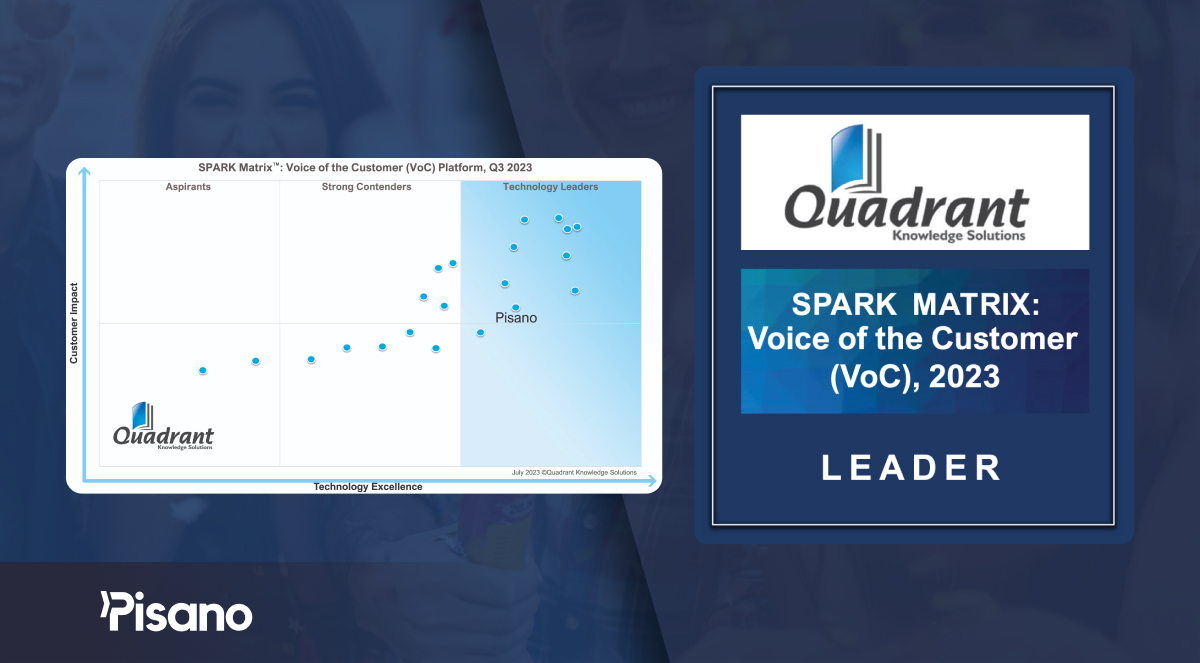 SPARK MatrixTM Analysis
Quadrant Knowledge Solutions is a global advisory and consulting firm focused on helping clients achieve business transformation goals through strategic knowledge partnerships and growth advisory services. Quadrant's research and consulting deliverables provide comprehensive information and strategic insights for clients to formulate growth strategies and thrive in ever-changing business environments.
Quadrant Knowledge Solutions' SPARK MatrixTM is a highly reputable competitive analysis and ranking tool that evaluates the leading Voice of the Customer (VoC) vendors. This analysis delves into global market dynamics, major trends, vendor landscape, and competitive positioning. It provides strategic information for users to assess different vendor capabilities, competitive differentiation, and market position, making it an invaluable resource for businesses looking to make informed decisions.
Pisano: A Leading VoC Vendor in Quadrant's Analysis
The leadership recognition bestowed upon Pisano in the SPARK MatrixTM analysis for Voice of the Customer (VoC), Q3, 2023, is a testament to its unwavering commitment to excellence and innovation in the global market. The in-depth analysis of market dynamics, major trends, and vendor landscape showcased Pisano's exceptional product capabilities and its ability to meet the ever-evolving needs of customers.
The company's mission is to create a better world by listening and understanding the voices of consumers, employees, and partners, fostering a feedback-centric business culture that drives excellence, innovation, and lasting impact. Pisano empowers organizations with innovative tools and insights to thrive in a customer-centric world, making it a trusted partner across various sectors, including banking and finance, telecommunication, retail, transportation, media, healthcare, and public sectors.
Pisano enables enterprises to gather, analyze, and interpret consumer feedback data, leading to a deeper understanding of customer preferences, wants, and pain points. With its data collection capabilities, extensive analytics tools, focus on closing the loop with customers, and a strong customer value proposition, Pisano has secured a prominent position among the 21 global vendors vetted by Quadrant.
One of the main pillars of this success for Pisano is undoubtedly the enhanced product capabilities and features, which have truly set its VoC software apart from the rest. Pisano product's key differentiators can be attributed to several factors, including:
Exceptional Data Collection Capabilities
Pisano's platform allows businesses to gather feedback from various channels, including surveys, forms, and free-format customer reviews. This comprehensive approach ensures that no valuable input is overlooked, empowering businesses to make informed decisions and cultivate strong customer relationships.
Advanced Analytics and AI
Pisano employs complex algorithms, machine learning, and AI to identify trends, patterns, and correlations within the feedback data. These advanced analytics enable companies to extract meaningful insights and make data-driven decisions, ultimately improving their products, services, and overall customer experience.
Focus on Closing the Loop
Pisano prioritizes proactive communication with customers through efficient workflows and a robust ticketing system. This customer-centric approach helps drive customer satisfaction and loyalty by ensuring timely interaction and successful complaint resolution.
Leadership and vision in the VoC domain have also been key factors in securing the position as a leader in the SPARK MatrixTM. As the industry looks toward the future, Pisano remains dedicated to empowering businesses with the best tools to elevate their customer experience strategies. The achievement solidifies Pisano's position as a trusted partner in the VoC domain, providing unparalleled value to its clientele and driving success through customer-centricity.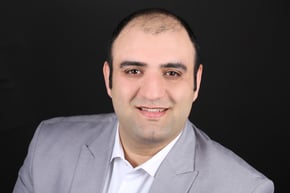 Siyavash Heidari
Data-driven, strategic, and innovative digital marketer, experienced in developing and coordinating the online presence of brands across various channels and developing campaigns to increase traffic and drive revenue. Equipped with superior SEO and content marketing skills, organic and paid marketing strategies, and product marketing techniques.