The first week of October was announced as National Customer Service Week in 1992 by President George H. Bush. A business cannot determine how much it is successful by taking the endorsement into consideration. Happy customers make the company successful. That's why companies develop new strategies to improve customer service. National Service Week is important part of the all customer service sector.
Happy customers are one of the key factors to growing business. Customer Service Week has the motto "happy employees for happy customers"; so, it focuses on how a company makes employees satisfied.
Better customer service means higher quality products and service. You should improve your employee strategy to make a difference in customer service because employees make contact between customer and product/service. In other words, Employees can perfectly serve to customers when they feel happy at the work.
ICSA supports the development of individual governance professionals and promote good practice. President of ICSA Bill Gessert suggested an agenda of the upcoming National Customer Service Week:
Monday: Business owners tell what customer service means in the company.
Tuesday: Business owners take over their employees for a day so that they can observe which struggles their employees have to deal.
Wednesday: A dinner is organised for employees.
Thursday: If suits are obligatory in your company, everyone will wear a casual dress or vice versa.
Friday: Friday is the day for conveying thanks to employees by business owner's.
We should not forget that Customer Service Week is just a reminder of the necessity to improve customer service in the firm.
Well, how to sustain satisfaction of employees? We want to tell you how we make employees happy in Pisano.
Establish an Open Communication Channel between You and Your Employees
You have to pay attention to what happens to your staff in their daily lives since your employees are the building blocks of your enterprise. Unresolved or unshared employee problems are directly reflected their everyday performance. Especially in the service sector, since your employees work close to your customers, the motivation of an employee can be directly felt by customers. Having an open communication channel between you and your employees is the key to collect the problems and needs of your employees.
After you listen to your employees' problems and get those problems solved, they embrace your enterprise. That will boost the loyalty and ownership, and you shouldn't forget every customer wants to be served by the owner.
Be Their Role Model
You should be a good example to your employees in business life. If you are hardworking and trustworthy, your employees will be willing to track your way. You shouldn't hesitate to share your business experiences with your staff. Satisfied employees enjoy their job because success brings satisfaction. In other words, happy and bonded employees embrace the corporate and work more efficiently. Then you will have the privilege to observe the healthy and vigorous relationship between your staff and your customers which directly affects customer satisfaction and the success of your business.
Arrange Training and Events for Your Employees
It is a profitable investment to train your staff. In most sectors and businesses employees are hired for their potential and not for their current abilities. To enhance the potential of the employees investing in both their personal and work-related skill development will boost the performance and loyalty of your employees.
You can also organize events to reinforce bonds within your corporate. These events are the basis for an open communication channel between you and your employees. If you are out of the office environment, the communication will be smooth and warm which is great to understand if there are any problems to be fixed. The sense of belonging affects customer satisfaction.
Encourage Them to Generate Ideas About Enterprises
Encouraging employees to produce ideas about your industry is crucial for businesses. A shared goal gathers all the people on the same page working for the same purpose.
Handling business problems as a team, sharing the responsibilities will ease the process from production to customer. Operational excellence will positively affect the value of your business in the eyes of your client.
We came to realize Customer Experience Expert Shep Hyken's suggestion about National Customer Service Week. Every member of Pisano wrote one of their best customer satisfaction story on the cards.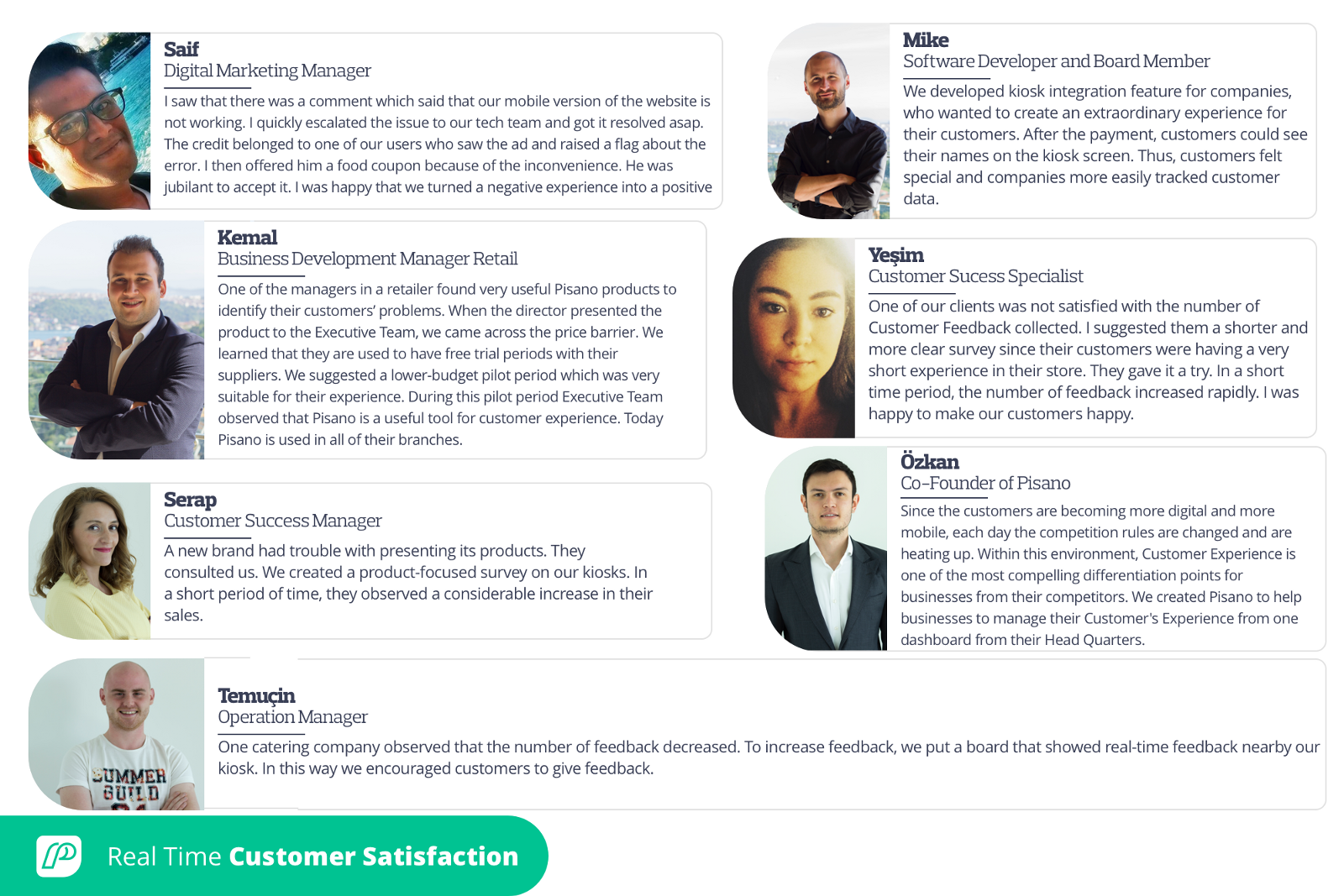 We hope you have a happy National Customer Service Week.
Pisano is a customer experience tool for your business. It collects and analyzes real-customer feedback to grow your business.
Pisano is a powerful customer experience management tool. We collect and analyze customer feedback to help you grow your business. Ready to deliver outstanding service?
Source:
Forbes Welcome
Forbes Welcome page -- Forbes is a global media company, focusing on business, investing, technology, entrepreneurship…www.forbes.com