Undoubtedly without a proper tool, it is next to impossible to create a customer journey map. This is mainly because you need to visually present the journey map drawn both to enhance and utilize it.
There are also other tools and customer journey software that can help you create the journey map from the ground. However, as many experience management specialists tend to do the hard work themselves to maximize accuracy, most of the tools used are the ones related to the visualization of the data and prototyping of the model.
In this Pisano Academy article, we will take a look at the top 5 customer journey software, with a focus on prototyping and visualization tools. We will also provide the information needed for you to choose from them.
Miro
Probably one of the most popular platforms right now, Miro is loved by many experts because of its ease of use and simplicity. You do not need any prior design knowledge to work efficiently with this tool. This online collaborative whiteboard has many a lot to offer, but using it as a visualization tool for CJM is definitely one of them.
This is where to start with Miro.
Microsoft PowerPoint
Yes, the ultimate presentation application can also be used to visualize your customer journey map. You simply can use your own skills to draw the journey or use the numerous templates designed for this purpose. Either way, you can expect a reasonable outcome from this well-praised software.
This where to start with Microsoft PowerPoint
Figma
The collaborative design tool is mainly used by designers and product teams as it offers a wide variety of graphic tools, all online. Figma provides an even more enhanced feature set than other customer journey mapping software in this list. To utilize it, you only need a good eye for the design and the rest can be done through the simplified panel of the app.
This is where to start with Figma
Adobe XD
A product from Adobe that is a famous name with its various creative software is absolutely worth a shot. Although Adobe XD is not as old as some names in the list and the options in the template library may not be as wide as them, the robustness of the application and the features included making it a perfect choice.
This is where to start with Adobe XD
Sketch
The sketch is one of the first apps to be used as a customer journey mapping software, giving it the upper hand over its competitors. The variety of templates existing for Sketch is so remarkable that you will definitely find one suitable for your need there.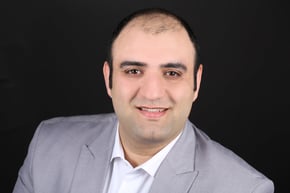 Siyavash Heidari
Data-driven, strategic, and innovative digital marketer, experienced in developing and coordinating the online presence of brands across various channels and developing campaigns to increase traffic and drive revenue. Equipped with superior SEO and content marketing skills, organic and paid marketing strategies, and product marketing techniques.