UK Customer Experience Awards 2022, one of the most notable and well-known events in the customer experience world, awarded this year's best CX initiatives in different fields and expertise. We were also present at the UK CX Awards as a sponsor and Pisano's high-level managers participated in the decision-making process as jurors.
The UK Customer Experience Awards took place in Wembley on the 12th of October. Many high-profile companies and CX professionals attended the awards ceremony. One of the best reasons to attend was to get together with other CX experts and share information and knowledge together. On the other hand, the companies in the UK compete with each other in 31 different categories to be awarded in the UK CX Awards.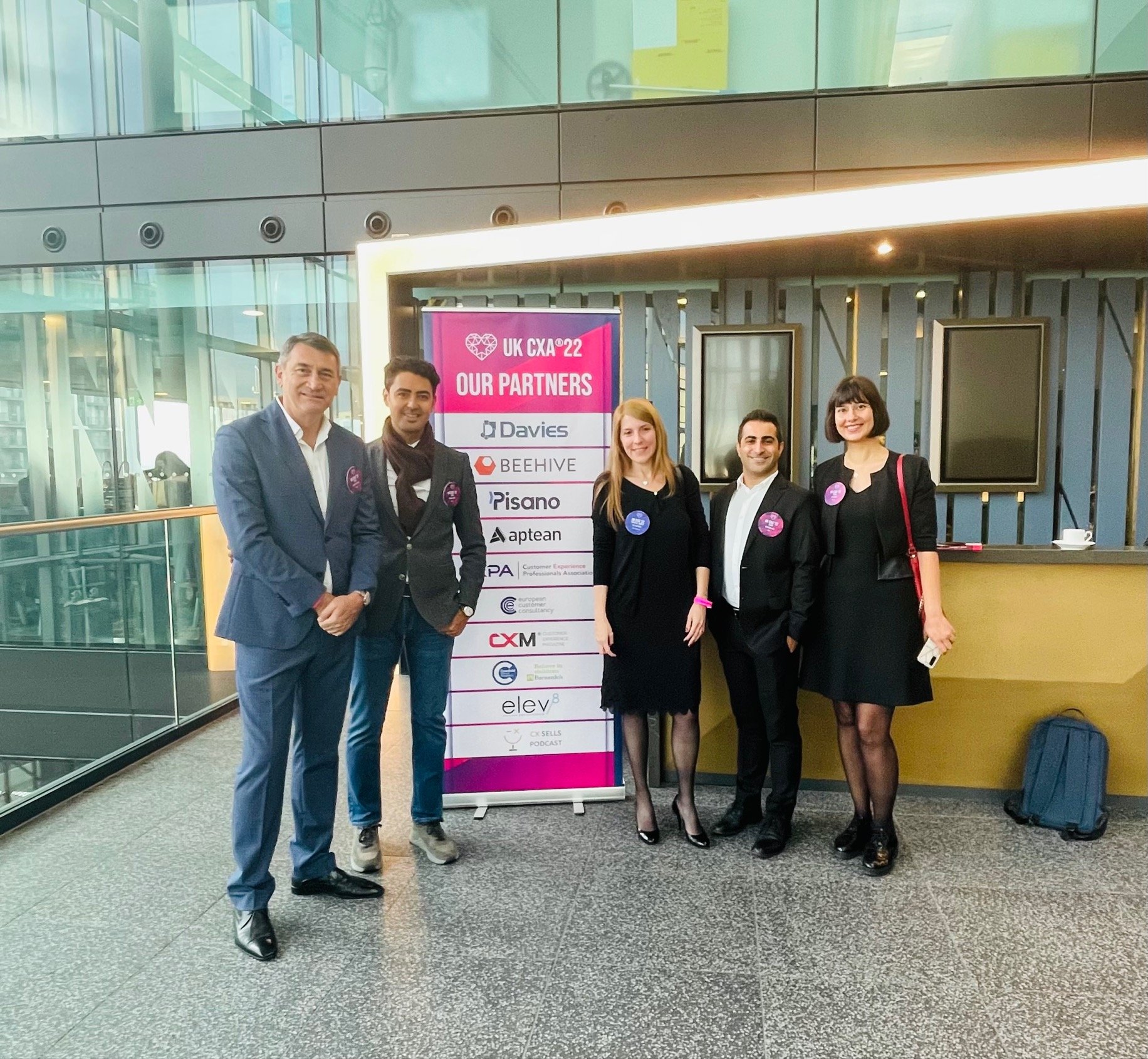 Pisano's Business Unit Manager – Europe, Murat Cizme expressed his overall experience with these words;
"It was quite special to get together in person with the UK CX community in one day, connect & share all the experiences with 500+ CX professionals. New developments, different & innovative approaches to improve CX in many different industries...
Personally, I had a very good experience from the very start till the end, the first time judging and learning a lot from the real business cases out there. Thank you, Awards International team, and all who have been part of this year's UKCXA. Big congrats to all the winners and to Bruntwood, the overall winner!"
You can see all the winners in each category below. And check the UK CXA website to see all the winners.
OVERALL WINNER
Bruntwood
CUSTOMERS AT THE HEART OF EVERYTHING™ SPONSORED BY PISANO
GOLD WINNER
Octopus Energy
BEST MEASUREMENT IN CUSTOMER EXPERIENCE
GOLD WINNER
Performance In People Ltd
MOST IMPROVED CX
GOLD WINNER
Sky
BEST B2B CUSTOMER EXPERIENCE
GOLD WINNER
OnTheMarket
BEST B2B CUSTOMER EXPERIENCE - PROFESSIONAL SERVICES
GOLD WINNER
MultiPay Global Solutions
BEST CUSTOMER SERVICE
GOLD WINNER
Octopus Energy
BEST LEARNING AND DEVELOPMENT
GOLD WINNER
Aegon
BEST INNOVATION IN CX
GOLD WINNER
Northern Trains Ltd
BEST USE OF CUSTOMER INSIGHT AND FEEDBACK
GOLD WINNER
Bruntwood
BEST COMPLAINT HANDLING
GOLD WINNER
NewDay
MOST IMPROVED COMPLAINT HANDLING
GOLD WINNER
Northumbrian Water Ltd
BEST EMPLOYEE - DRIVEN CX
GOLD WINNER
Sky
VULNERABILITY / HEALTH AND WELLBEING IN CX
GOLD WINNER
SGN
BEST CUSTOMER EXPERIENCE STRATEGY
GOLD WINNER
Virgin Media O2
BEST CUSTOMER EXPERIENCE FOR SMES
GOLD WINNER
Mobile Mini in partnership with Think Wow
BEST CUSTOMER EXPERIENCE IN THE CRISIS
GOLD WINNER
The Cumberland
BEST CUSTOMER EXPERIENCE IN THE CRISIS - LARGE COMPANY
GOLD WINNER
Sky
BEST CUSTOMER-CENTRIC CULTURE
GOLD WINNER
Warmworks
BEST CUSTOMER-CENTRIC CULTURE - LARGE COMPANY
GOLD WINNER
SGN
BEST USE OF TECHNOLOGY
GOLD WINNER
Vitality
BEST DIGITAL TRANSFORMATION
GOLD WINNER
Vodafone in partnership with Accenture
CUSTOMERS AT THE HEART OF EVERYTHING™ - OVER 5,000 EMPLOYEES
GOLD WINNER
Mars Petcare
CUSTOMERS AT THE HEART OF EVERYTHING™ - B2B
GOLD WINNER
Bruntwood
CUSTOMERS AT THE HEART OF EVERYTHING™ - FINANCIAL SERVICES
GOLD WINNER
Standard Life
FINANCIAL SERVICES
GOLD WINNER
Financial Services Compensation Scheme
BUSINESS CHANGE AND TRANSFORMATION
GOLD WINNER
Sky
BUSINESS CHANGE AND TRANSFORMATION - FINANCIAL SERVICES
GOLD WINNER
Marks & Spencer Bank in partnership with InMoment
CX TEAM OF THE YEAR
GOLD WINNER
Virgin Media O2
WOMAN CX PROFESSIONAL OF THE YEAR
GOLD WINNER
Katriona O'Hare (Searchflow)
CX LEADER OF THE YEAR
GOLD WINNER
Mike Gauterin (BT)