Why Customer Satisfaction Surveys Are Important
According to research done by Esteban Kolsky, the founder and principal of thinkJar, a Customer Strategy consulting and think tank organization; 70% of companies that deliver best in class customer experience use customer feedback - versus industry average of 50%, and 29% for laggards. This statistics once more shows that if you aim at creating perfect customer experience and want make you brand shine, it is extremely important to collect feedback from your customers.
To make the long story short, if you still don't collect feedback, you must start. Now!
Customer feedback processes are a multi-faceted concept and need to be meticulously developed at every stage. Incorrect questions can lead to wrong analyses, and incorrect analyses can lead to undesirable results. To be able to avoid this, you should set your goals for collecting feedback well and take action towards these goals from the get-go.
Customer satisfaction surveys are conducted to measure the satisfaction of people who use your product or service and to identify deficiencies. The information obtained from these surveys ensure that relations with the existing customers grow stronger and the new customers do not face the old problems. The intent here is to keep customer experience at a high level; so, people keep coming back and customer loyalty increases.
With the support of technology, customer satisfaction surveys can be done immediately at the point of sale. Also it is possible to do them in online stores; through links, via social media or over email. However, if the right questions are not asked, survey completion rates may decrease or obtaining actionable data may become difficult. So, you should pay attention to some significant points in survey forms when measuring customer satisfaction.
How Should An Effective Customer Satisfaction Survey Be?
In his magnificent TED speech "Are We In Control Of Our Decisions?", Dan Airely shows with clear data: what we ask is as important as how we ask. It is also important that we ask our questions positively or negatively, the order of our questions… This also applies to customer satisfaction surveys.
Before you start writing your questions, plan what you want to learn from your questionnaire. You might be wondering what your customers generally think of you.
Perhaps you want to measure your staff's effect on your customers' overall satisfaction, the usefulness of your online store, or the impact of a new feature on your performance, rather than overall satisfaction with your product or service… In all these cases, your questionnaire and your target audience in your whole customer base have to be more specific than a general survey. So the next most important step after determining your goal, is to determine who you will present this questionnaire to. For example, if you send a questionnaire to measure the impact of a new feature added to your SaaS product, sending it to someone who has not actively used your product for the last 3 months, would be waste of time and energy.
Every question should serve a purpose. One of the main misconceptions when preparing a questionnaire is to think that asking more questions will lead to more comprehensive results. But in today's world, time is more precious than everything and your customers are aware of how valuable each second is. Therefore, you should ask questions aimed toward the topic you want to learn and have a clear purpose for each and every one of your questions.
Asking close-ended questions make life easier for both you and your respondents. Would you prefer to express your opinion with a single touch, or to write long text? If you ask open-ended questions and do not give them options to choose from, your respondents will have to write text, which will extend the duration of the questionnaire and reduce completion rates. For example, if you are doing your survey via kiosk channel, it would be more user-friendly to give suggestions instead of making people write long text on tablet.
You can see another great advantage of close-ended questions in reporting. Open-ended questions requires reading before categorization and that process can take significant amount of time. Contrary to this, close-ended questions are ready for reporting by nature.
However, request and suggestion questions need to be open-ended, obviously. In this way, participants can freely express their new ideas. By positioning these types of long text queries as the final question of your forms, you can minimise their impact on the completion rates of your surveys.
Finally do not ask questions on assumptions. If you start using what if very often, you would investigate a situation that didn't actually happen. Instead of this, you should try to ask questions about existing situations, so the data you get will have a higher quality.
What Should Be Considered While Preparing a Survey?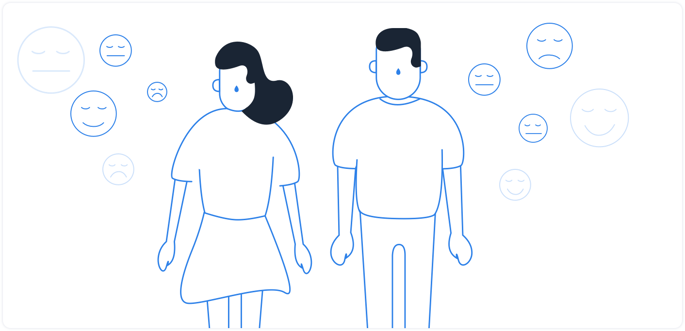 First rule: get as many respondents as possible. Sounds hard, but it's not impossible :) First of all, it is very important how you invite people to your survey. Are you going to write a short, striking call-to-action, or a more formal and longer one? These are very relevant to your target audience mentioned above. Still, when in doubt, keeping it short and easy, is usually better.
Implementing a reward or loyalty program for those who participate in your surveys can get more attention. You can give respondents a discount coupon they can use on their next purchase, or invite them to a raffle. Such gamification mechanisms increase the attractiveness of surveys and make easier to reach more customers. But, customers tend to give unrealistic responses with winning motivation and it might put all your efforts in jeopardy. That's why, positioning your surveys in right touch points can be a better idea for high completion rates and valid results.
In traditional surveys, it was easy to find out which stage of the survey we were in. We could see the survey's length just by looking at the pages. But in digital forms every question is accompanied by the curiosity of "How many more questions do I have to answer?". If this curiosity is not satisfied, the risk of abandonment increases with each question. Do you want to avoid this? Than always add a symbol or a counter on your question page to indicate how many questions are left.
In addition to that, your form should not be too long. When you show how many questions left, the huge amounts can scare respondents. The ideal is asking five or ten questions for each respondent. But instead of asking all the questions to each one of customers, you can show different questions to everyone with smartforms. This lets you to reduce the number of questions for each form but obtain same variety of data in the end. It is a very useful feature because long forms usually have low completion rates.
B2C (business to consumer) companies' customers may not be familiar with professional jargon and it's extremely natural. If you want to get proper answers, your questions must be as clear as possible and not contain sectoral terms. If it's inevitable to use these kinds of words, be sure that you include a definition. B2B companies are relatively free about their use of jargon but don't forget that your customers or partners can be in another industry.
People who take your customer satisfaction survey do not only shop from you, they also give you their time and feedback. Do not these people deserve a thank you? Make sure your form has a thank you page! Attentive customers will notice and appreciate it.
You are ready!
Build the customer satisfaction form you'll be proud of! If you do a good job, you can apply the same questionnaire more than once. You can make comparisons and gain highly valuable information for your long term strategy.
Of course, there is an easier way to create a customer satisfaction survey without getting lost your way around tips and rules. One of Pisano's ready-to-use flow templates is for customer satisfaction surveys. Start instantly or customize it based on your needs.