Welcome to our fourth article on our journey to explore the employee experience as a data-driven discipline that is still quite young but with so much potential.
I would like to start this article with a design flow that I especially try to follow while introducing a new concept to my participants in corporate trainings.
This design flow, which I have mentioned in detail in my book Instructional Designer's Handbook, is built on the basic principles of adult learning, called andragogy.
According to this flow, at the mindset stage, I try to ensure that the participants are convinced that the new concept presented to them is meaningful and useful both for their personal lives and for the work they do so that they adopt this concept.
At the skillset stage, I aim to equip the participants, who are now convinced about the concept I presented to them and are willing to put the knowledge they have learned into action, with the necessary skills to take action.
Finally, at the stage of toolset, I show the participants, who have learned the necessary skills to take action, with which tools they can use these newly acquired skills and enrich their tool kit.
We followed a similar logic in this series of articles on employee experience.
Our first article, in which we touched on what employee experience is, the tremendous change in the labor market, and why human resources should change and transform in a world where all business concepts are changing, aimed to ignite a small but bright spark in the minds of our readers.
In our second article, the digital employee experience, we talked about what it means to meet the employee where they are and of course, empathy which is a very important component for all experience-related practices. From this point of view we both touched on the expectations of the younger generations, also called digital natives, in terms of their experience in the digital layer and defined what a smooth digital experience should look like that will be offered in remote, flexible and hybrid working models.
In our third article, we examined the layers and components necessary for the adoption and governance of employee experience at the organizational level. This article covers the corporate integration of the employee experience with a holistic approach. It has become a roadmap for all organizations that want to implement the employee experience at the stages of culture, structure, system, policy/procedure/process and human focus.
In this sense, we can say that the second and third articles are small but solid steps we have taken in the field of employee experience in terms of skill set.
After what we have covered so far mindset and skillset, in this article, we will focus on toolset and will talk about a powerful method that you can use in your employee experience designs along with a few extremely useful tools that come with it.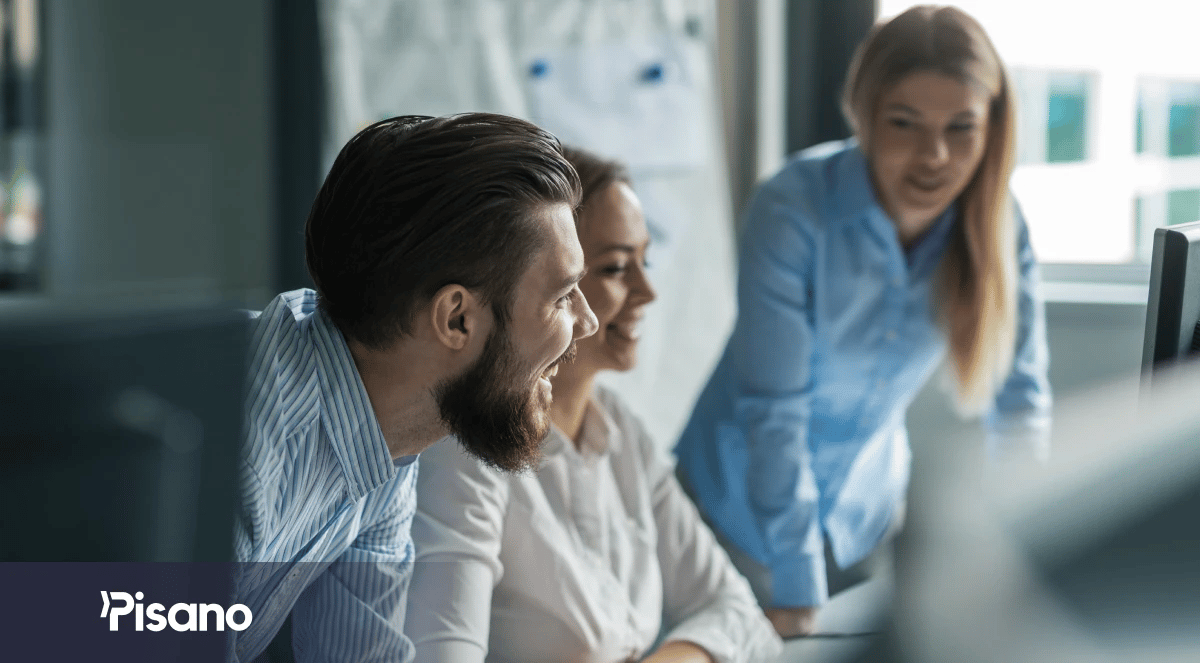 Design Thinking
There is a frequent saying I use in my training sessions. Employee experience starts with design thinking and design thinking starts with empathy. We have mentioned in detail before how important empathy and meeting the employee where they are is.
Let's first talk about what design thinking is, and when and how it emerged.

Origins of Design Thinking
Design thinking is based on the user-oriented design principles of Dieter Rams, a German industrial designer of the 1960s. However, as I elaborate on in my book, design thinking has become even more popular through the work of design firms like IDEO and individuals like Tim Brown.
As CEO and president of IDEO, Tim Brown has played an important role in the application and influence of design thinking. Under his leadership, IDEO has become a pioneer in innovation and in human-centered design, making design thinking the pioneer of human-centered problem-solving methodologies.
Brown's contributions to design thinking were not only limited to aesthetics and functionality but also demonstrated the importance of empathy and interdisciplinary collaboration in the design process. Brown's vision has transformed design thinking into a mindset that aims to meet the basic needs and desires of users during the entire design process, rather than a method.
Through IDEO's groundbreaking projects and collaborations, Tim Brown has demonstrated how design thinking has transformative potential across a variety of industries from technology to health, education to technology.

The Synergy of Design Thinking with Employee Experience
The intersection cluster of design thinking with employee experience aims to create a holistic system that focuses on the needs of employees and effectively supports them in the ordinary course of work experience. At the basis of this approach, both disciplines strongly demonstrate a user-oriented, empathetic, problem solving and iterative design process.
In this respect, the synergy created by design thinking with employee experience emerges from the joining forces of two kindred philosophies to create a work experience that will increase efficiency, productivity, employee happiness and engagement.

Design Thinking Methodology
Design thinking is based on a 5-step model:
Empathize
Define
Ideate
Prototype
Test
Let's discuss them in details.

Empathize
As we mentioned at the beginning of our article, the first step of the design thinking model is to empathize with the user to solve a problem. I believe that it is necessary to dive deeper on these two important components in this sentence.
Design thinking is essentially a human-oriented, innovative problem-solving method that is triggered to produce a solution to a problem. Therefore, applying design thinking requires either a problem or an opportunity for improvement.
Our problem definition may be for example a pain point in the course of the employee's normal work experience.
And our improvement opportunity on the other hand can be the scaling of a very positive experience that exceeds the expectations in one of the gain points to a normal touch point. (Read more in our article What is Employee Experience.)
Empathizing with the user is a critical requirement for accurately hearing, interpreting and understanding the expectations, interests, wishes and needs of the user. A designer who thinks without putting himself in the user's shoes even without actually living through the user's experience may inevitably move away from the needs and expectations of the user in the next steps of design thinking which are the define and ideation stages.
For example, let's say that you realize that your employees with walking disabilities (the target group of users) are not satisfied with the design of the work environment. →Problem/opportunity for improvement
What activities can you do to find out the reason for their dissatisfaction?


Conducting focus groups and interviews with employees with walking disabilities (collecting qualitative data)
Observation of employees with walking disabilities during the day (collecting qualitative data)
Gathering information by opening a survey on employees with walking disabilities (collecting quantitative data)

Although all of these methods are valid and extremely rational can you think of any other method that will allow us to empathize with the user better and live through the difficulties they are experiencing?

How would you like for example the designer group to try to carry out their daily activities in your work environment with a wheelchair similar to that used by your employees with walking disabilities for a full day? In this way, the chance of developing solution proposals that will directly address the expectations, interests, wishes and needs of the user will naturally be much higher.
Define
Now is the time to define the pain point of the user by framing it, based on the insights we obtained during the empathise stage which is the previous step of the design thinking model.
It is extremely important to identify the problem we want to focus on by defining what is the problem that we need to find a solution for so that the process can be embodied in the minds of all stakeholders and to bring everyone together on the same page.
Problem Description: Our non-disabled-friendly physical working environments negatively affect the lives and working experiences of our employees with walking disabilities.
The personnel shuttles used for arrival and departure to the business environment, working environment, cafeteria and resting areas do not have a disabled-friendly design.
This situation especially causes our employees with walking disabilities to have difficulty getting on and off the personnel shuttle, to be restricted while moving in the work environment and to make use of the cafeteria and resting areas only with the help of others.

Ideation
At this stage, designers come together and carry out idea generation to develop possible solutions to the problem they identified in the previous step. It is crucial to have a creative and development-oriented mindset at this stage. And it is very important for the participants to be able to express any idea that comes to their mind quickly, without fear of being judged, criticized or despised. The priority at this stage is to create a wealth of ideas rather than pinpointing the most useful ideas and suggestions.


Adding elevators to personnel services
Adding disabled seats to personnel services
Adding wheelchair ramps to building entrances
Adding a voice command system to elevator panels
Providing extended poles for disabled personnel so that employees with walking disabilities can reach the elevator panels.
Placing tray areas at chair level for employees with walking disabilities in the dining hall and cafeteria areas.
The cafeteria staff can personally assist employees with walking disabilities.


I will keep this list limited for practicality purposes but imagine that the list becomes longer and richer to include many different ideas after a productive ideation session.

For example, an affinity diagram can be used at this stage to structure many possible ideas that emerge and bring together the related ones.

The affinity diagram is an extremely useful tool that designers often use to group the factors that cause a particular problem or to group different proposals for the same solution.

In the first step, an unsorted affinity diagram created with simple post-it stickers will look like this.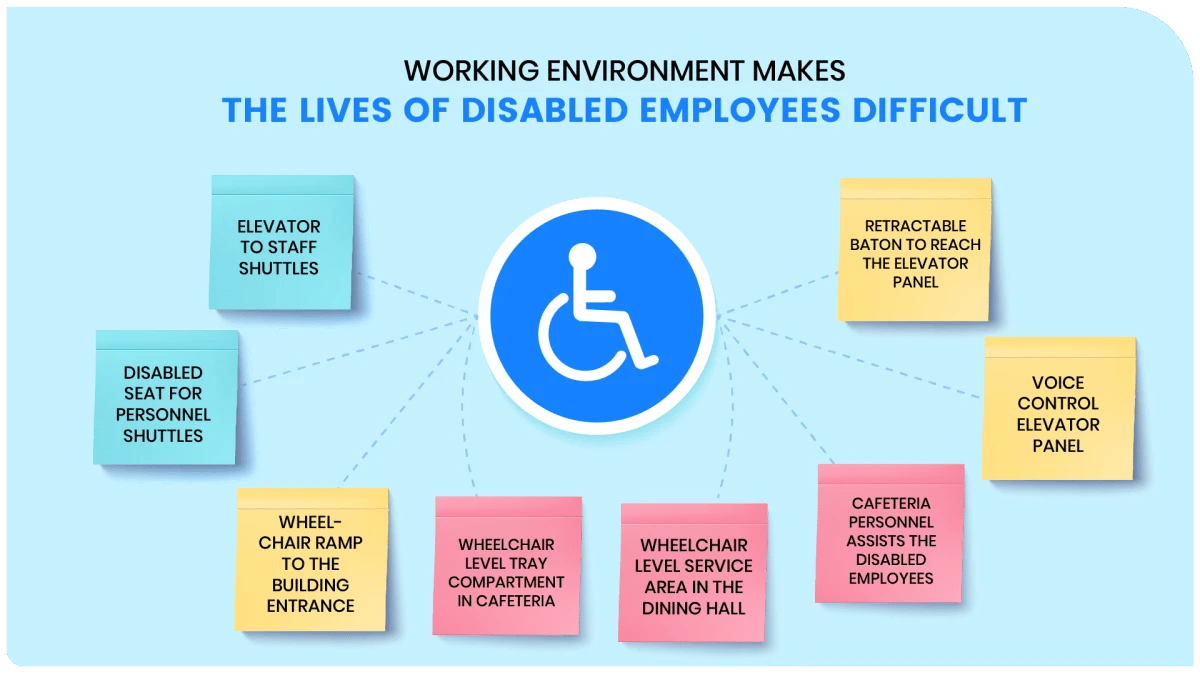 In the second stage, suggestions that are close to each other in terms of meaning (this is where the name affinity comes from) are gathered together. The focus area of the ideas in the relevant group is determined by putting a common title to represent each suggestion group. Thus, the diagram now becomes a structured convergence diagram.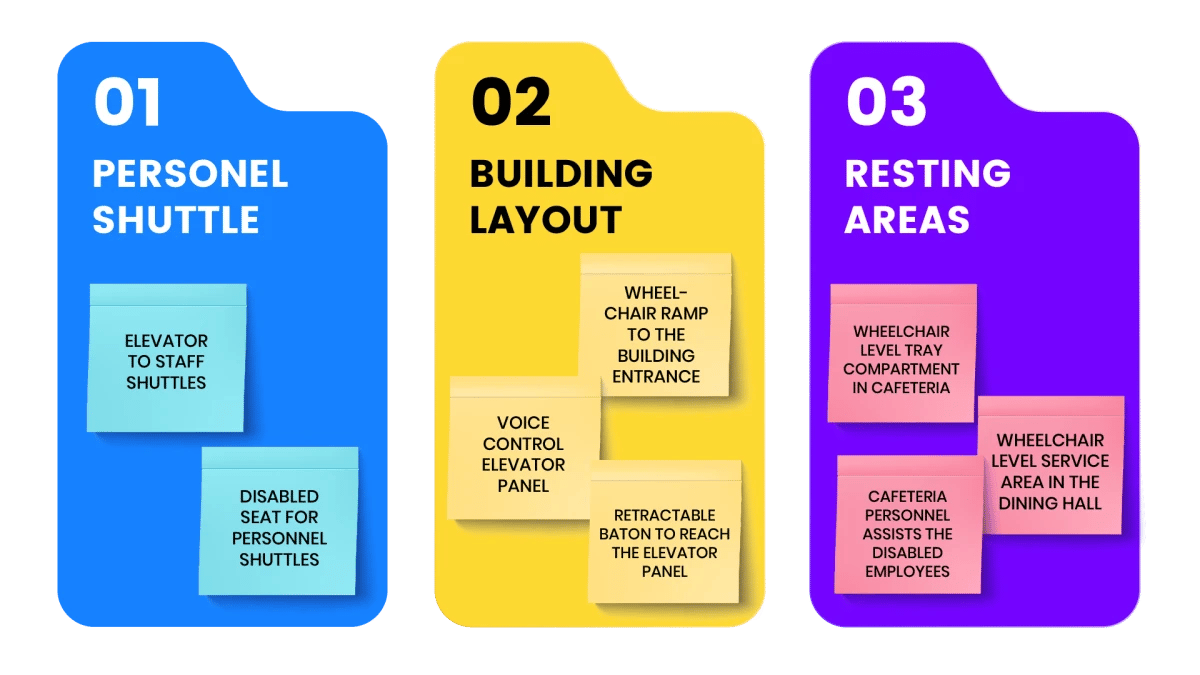 At this stage, a different tool named as the effort/impact matrix can be used to decide which suggestions should take priority and which suggestions the team will focus their resources on.
This tool is also frequently used by designers to evaluate the effort required to realize the suggestions at hand and the possible impact that will occur if any particular suggestion is implemented.
The effort/impact matrix looks like the following as an empty template.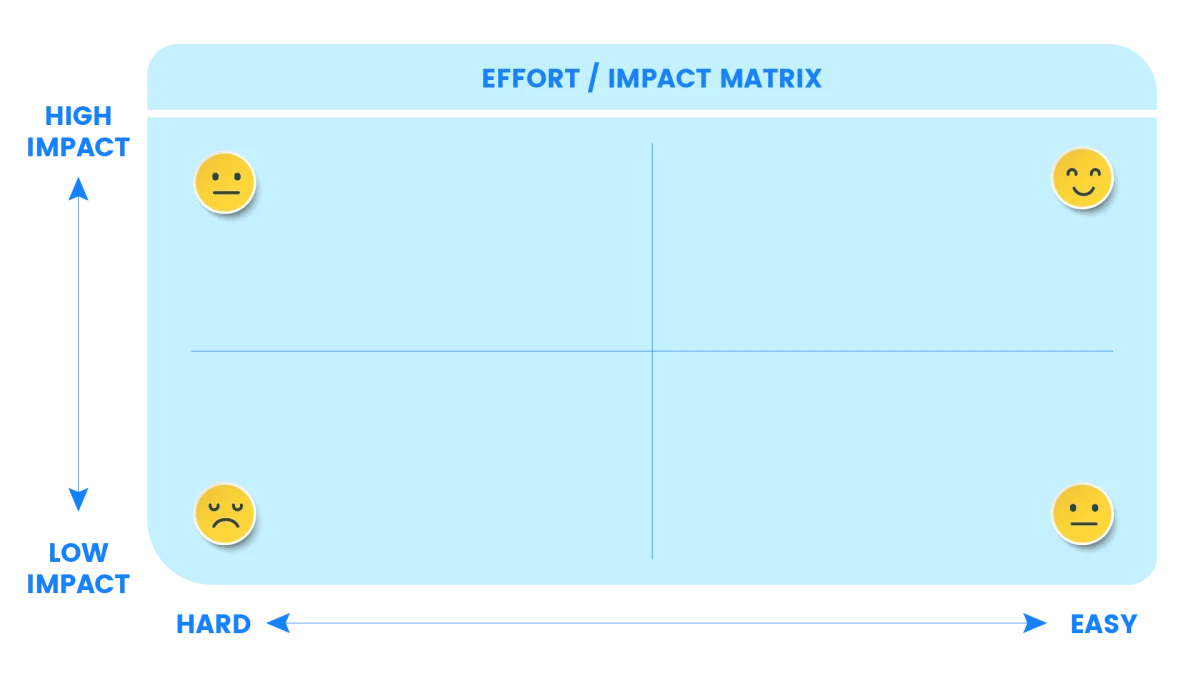 When we take our data in the structured affinity diagram to the relevant quadrants in the effort/impact matrix and when the most suitable options are selected for the rapid testing of the team the result will be as follows.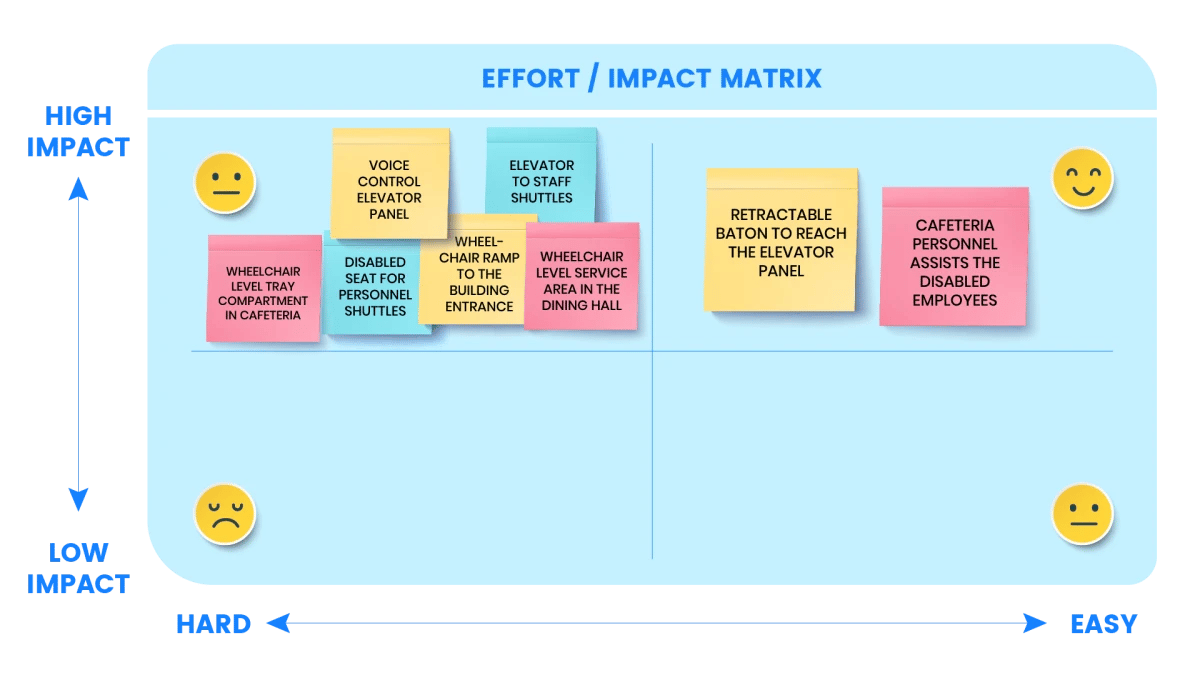 Prototype
The prototyping phase is very important in terms of highlighting one of the most important features that distinguishes design thinking from other methods. This distinguishing feature is the development-oriented mindset and experimental approach which has also been strongly adopted by the employee experience discipline.
Instead of wasting time to reach a perfect design with all its details design thinking, like agile methodologies, prefers to quickly respond to the immediate expectations and needs of the user.
Moreover, thanks to frequent and fast feedback mechanisms, while doing so it includes the user and carries out development (iteration) cycles to reach the design that will meet the needs and expectations of the user.
For example, consider that this design team includes employees with walking disabilities in the user group. In this way not only the user will be included in the design but also a co-creation team, an all time favorite approach in employee experience, will also be implemented.
Thus, unpleasant surprises, such as after long efforts to realize the most perfect solution figuring out that the user's expectation is actually something entirely different from the solution that has emerged, will be evaded.
Going back to our example, the design team is now in agreement on how they want to develop solutions to the problem at hand and is ready to take action.
The team decided to act on two suggestions that were both highly effective and could be implemented with relatively less effort.
Designing a retractable baton so that employees with walking disabilities can reach the elevator control panels.
The cafeteria staff will personally assist employees with walking disabilities to carry their trays to the table during service times.

During the prototyping phase, instead of designing and manufacturing a metal, ergonomic, comfortable and aesthetically stylish retractable baton the team prefers to design a minium viable product (MVP) that will meet the minimum requirements and wants to move on rapidly to the field test phase.
From this point of view, they cut the baton from a 30 cm long cardboard and reinforce it by giving it a cylinder shape with adhesive tape. They're looking forward to user testing to see if this prototype can provide a solution to an employee with a walking disability while using an elevator.

Testing
This is a very importan stage in the design thinking model where we will test the consistency and validity of all the work put forward up to this point in terms of producing solutions to user needs and expectations. That is, this where we will learn from our experience.
Our team enters the elevator with an employee with a walking disability who wants to take part in the user test of the baton they made out of cardboard. They immediately hand the prototype baton they made out of cardboard to the disabled employee and ask him/her to use it to press the button on the elevator control panel that corresponds to the floor they want to go to. However, when the disabled employee extends the baton to the panel to use, the wide end of the baton prevents him from pressing a single button.
Moreover, after s/he is done, s/he has to hang or put the baton somewhere on the chair so that s/he can walk the wheelchair using both hands. However, there is neither a suitable place in the wheelchair nor a wristband of the baton.
With these teachings, the team returns to the ideation stage in the design thinking model and begins to produce suggestions for development. The loop will run again and the prototype will once again field test with the second development/iteration.

Use of Design Thinking Tools in Employee Experience
The rich toolkit of design thinking also helps us in different areas in the discipline of employee experience. For example, we build personas to get to know our users better (so that we can better empathise with them) or draw journey maps to ensure that our experience designs evoke the emotions we desire.

Persona
Persona is a fictional character in which an employee is represented. This character includes characteristics such as the employee's demographics, needs, motivations, and goals. The persona creation process allows us to understand the perspective of the employees and thus enhance the experience.
Consider a company that aims to improve its performance review process. Designers at this company use design thinking to create personas that represent different types of employees, such as high performers, mid-performers, and those seeking growth opportunities. These personas provide insight into the unique needs, expectations, and pain points of each group.
By making use of these personas, the company can tailor its performance appraisal experience to meet the specific needs of employees who fall within a certain target audience. For high performers in these adaptations, the focus may be on recognition, growth opportunities and challenges.
Whereas the focus will be on providing clear feedback, actionable goals and improvement plans for moderate performers. For employees seeking growth opportunities, the company can design its performance appraisal process to include mentoring, training programs and support for skills development.
By customizing the performance review experience for individuals, the company creates a more meaningful and effective feedback mechanism. This approach supports employee engagement, motivation and development resulting in increased performance and overall employee satisfaction.

Created with UXPressia
Journey Map
A journey map is a visual tool that shows step-by-step an employee's experience through a given process. For example, a company can use the journey mapping tool when it wants to improve the onboarding process. The journey map will show the steps and touchpoints a new employee goes through from day 1 to a complete onboarding. Understanding this journey helps the company optimize the process and provide a better experience for new employees.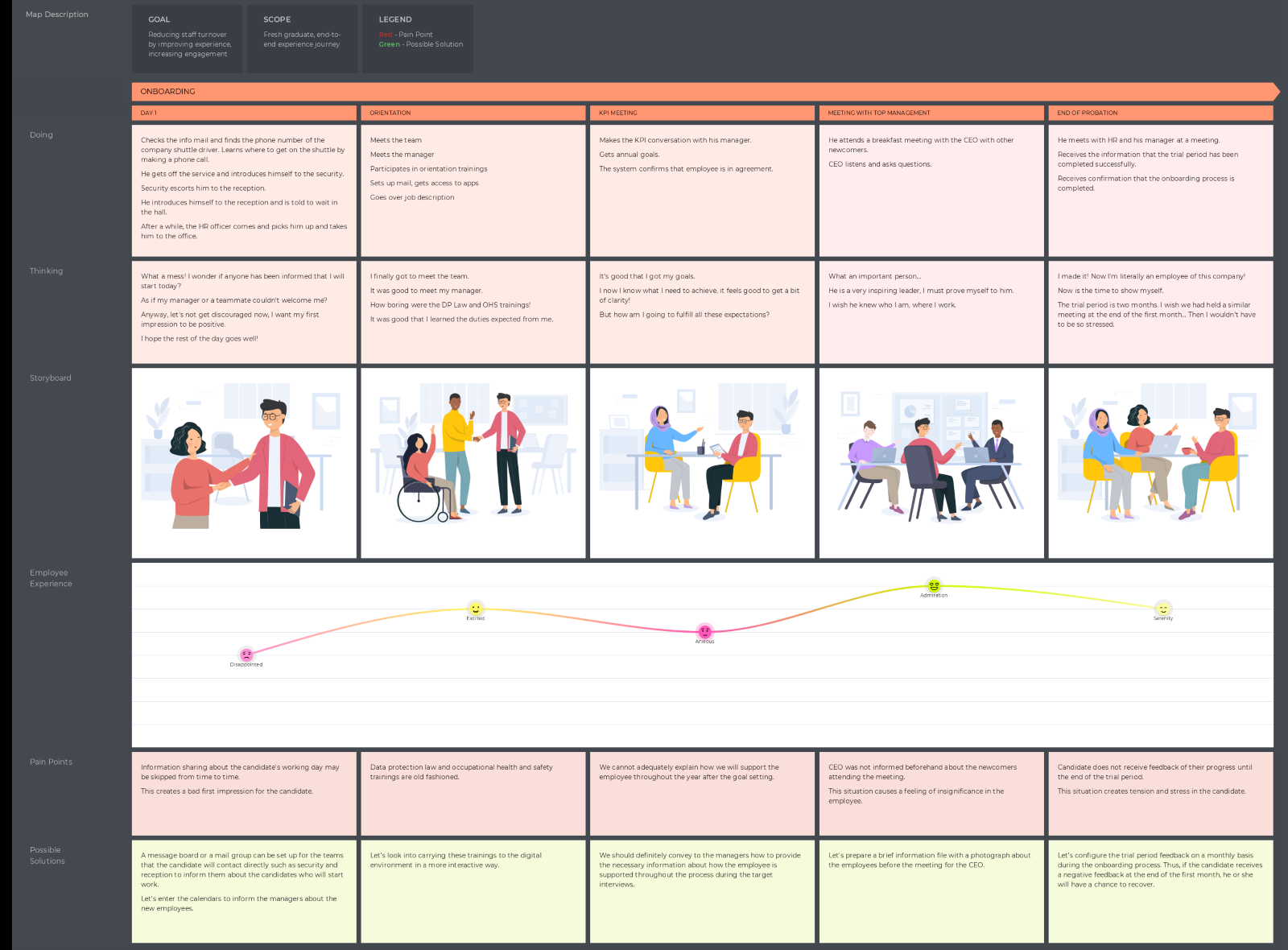 Created with UXPressia
Design thinking is a highly effective method and philosophy used by many leading companies that put employees in the center to provide their employees with a positive, healthy and sustainable work experience.
For example, Airbnb has handled the performance appraisal process with design thinking and developed a performance management approach customized for different employee profiles by creating personas. This approach, which they call "Hosted Conversations" aims to better understand the performance of employees and to make the feedback process more effective.
As another example, Google has used journey maps to better understand employee needs and improve the hybrid working experience during the pandemic. In this way, Google has developed effective communication, collaboration tools and policies that support work-life balance by mapping the experiences of on-premise and remote workers.
Conclusion
In this article, we focused on the synergy opportunities created by employee experience and design thinking to enrich our toolset.
If you are interested in providing your employees with healthy and sustainable experiences where they can feel more efficient, productive, happy and engaged follow our article series to explore the vast potential of employee experience as a data-driven discipline that is still waiting to be unlocked!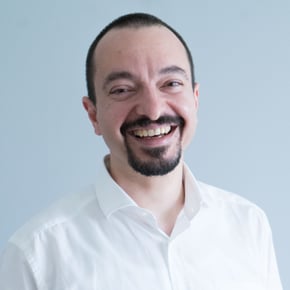 Orçun Irfan
Orçun İrfan is the first and only EX Professional accredited by the leading EX Organizations in the USA and UK. He is the author of the first and only reference book written and published in Turkish and the Founding President of the Turkish Employee Experience Society. Orçun has over 20 years of HR experience and is currently working as the Employee Experience Director for Pisano.