As one of the most crucial CX tools, customer journey mapping is nowadays being used by almost every business out there. It does not matter what industry your company belongs to or what continent you are active in; with more than 90 percent of companies utilizing customer journey mapping, your competitors, indeed, have already developed their own CJM and are benefiting from it.
While the foundation of creating a journey map stays the same, B2B Customer Journey Maps are slightly different from B2C or other business models' CJM. However, in order to ensure your B2B customer journey map is valid, detailed and efficient enough to encompass the actual path your customers walk through, you need to take some crucial factors into consideration.
In this article from Pisano Academy, you will learn more about B2B customer journey maps. You will also learn more about creating and maintaining a proper B2B customer journey map.
Is a B2B Customer Journey Map Different from a B2C One?
This is one of the most frequent questions, especially if this is your first time creating a CJM. The answer, to be exact, is yes. A B2B customer journey map is basically different from a B2C one, especially in terms of complexity. This is due to the fact that the customer itself, its motives and behaviors are all remarkably different from those a B2C customer.
A B2B customer is usually more niche, making it a more complicated and harder to convince persona. On the other hand, the purchase and retention process differs vastly from those in B2C journeys.
These differences, of course, make the B2B customer journey mapping a more challenging job to be done, needing more experience and details.
A Step-by-Step Guide to Creating a B2B Customer Journey Map
There are different approaches to creating B2B customer journey maps. Some experts prefer to start with a thorough analysis of the buyer and then go ahead with the procedures, while others start with the motives and keep on to the procedure.
However, in this part of this article, we provide a step-by-step guide to help you create a standard B2B CJM.
Step 1: Decision-Maker Persona
In the very first step, it is crucial to analyze and understand the persona of the decision-makers. The key here is to answer the question: "Who will decide the purchase of the product or service?"
Step 2: The Need
The next step will be determining what need or desire drives the customer toward you. Is there a problem they are looking to solve or is there a need they want to satisfy?
Step 3: The Initial Journey Map
After reaching a detailed answer to the first two questions, you are now able to draw the initial journey map. This will be a simple map of the stages the B2B customer will undergo. You can also use the standard journey stages as the backbone and customize them if needed.
Step 4: The Touchpoints
Nothing customizes the Journey map more than the touchpoints, as they differ from one journey and business to another. Add the touchpoints the customers interact with your business to the journey map and then finalize it with all details missed in the previous step. Now the B2B customer journey map is ready to be used.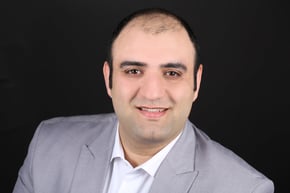 Siyavash Heidari
Data-driven, strategic, and innovative digital marketer, experienced in developing and coordinating the online presence of brands across various channels and developing campaigns to increase traffic and drive revenue. Equipped with superior SEO and content marketing skills, organic and paid marketing strategies, and product marketing techniques.