The good thing about creating a customer journey is the fact that you normally do not need to invent the wheel once again. There are a lot of other experts that paved the way long ago and you can save a lot of time by using their experiences. One of the simplest things you can do for that purpose is to use a customer journey map template.
A customer journey map template is essentially a graphical template created by either a CJM expert or a graphic designer that facilitates the process of visualizing the customer journey map. Most of the time, you only need to customize the template with a few clicks, and it is ready to use.
One thing you should remember when choosing a customer journey map template is the platform in which the template has been created. As an example, if you are using a CJM made in Miro, it is better, if not necessary, to work on and develop it in Miro. To learn more about these platforms, check out our article about customer journey mapping software.
In this article from Pisano, we introduce the top 4 customer journey mapping templates. You can choose among the items listed here and simply start your work on visualizing the outcome of your journey mapping process with a few clicks.
Miro Customer Journey Map Template
Miro, one of the most popular tools for a variety of purposes has a free template for CJM. You can use these templates simply within the platform and customize them where needed. This template uses the Miro platform features, and due to this reason, it is recommended to customize and utilize it within the platform.
You can find this template here.
HubSpot Customer Journey Map Templates
HubSpot is considered a reference in the marketing world and its website and resources are a mecca for a lot of marketers. As a part of its resources, HubSpot is offering access to 7 free customer journey map templates on its website. You can enjoy these various templates the website provides as a free knowledge-sharing gift.
You can find these templates here.
Design A Better Business Customer Journey Map Canvas
Design a Better Business website offers one of the most straightforward-looking customer journey map templates among the other items of this list. You can simply download it in different sizes and formats, such as A4, A1, printable or PowerPoint and put them in use immediately. Its simplicity makes it like a classic version of CJM that is well-loved by almost anyone.
You can find this template here.
Custellence Customer Journey Map Templates
Utilizing real projects and developed by CX experts, the Custellence website offers free access to a good number of CJM templates for free. The fact that you will have access to a variety of templates such as service blueprint, tailored and B2B Customer Journey Map makes it a good resource for you.
You can find this template here.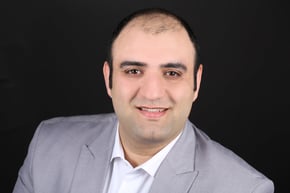 Siyavash Heidari
Data-driven, strategic, and innovative digital marketer, experienced in developing and coordinating the online presence of brands across various channels and developing campaigns to increase traffic and drive revenue. Equipped with superior SEO and content marketing skills, organic and paid marketing strategies, and product marketing techniques.