Customer Journey Mapping is so widespread nowadays that it is hard to believe someone has not heard about it recently. CJM is basically a schema illustrating the path in which a potential customer can become a brand advocate. But how can Customer Journey Mapping benefit a business?
Numerous pieces of research, such as this thorough report indicate companies that utilize CJM have experienced positive impacts. They mostly tend to see a rise in their CX metrics like NPS and so on. But this is not the only impact they label as positive.
In this article from Pisano Academy, we will discuss the customer journey mapping benefits. We will share the reasons why mapping the customer journey is helpful and how it can impact your business positively.
How does Customer Journey Mapping Benefit the Company?
There are various ways customer journey mapping can help a business, from simply improving the current journey to ideally improving marketing procedures. They all can result in an increase in customer satisfaction or revenue either directly or indirectly, both of which are considered two of the most sought-after objectives of a business.
1. The Current Journey
It is obvious that no procedure is flawless. With mapping a journey, you have the chance to observe a picture-perfect illustration of the path your customers move within. This will show the most minor flaws in the journey that can be the first candidate for improvement. Of course, you need to ensure that the journey is fully mapped before starting the amendments.
2. T
he Customer Experience
One of the customer journey benefits you can take for granted is the improvement of CX. It is among the first results that usually come up when the CJ is mapped and that is based on the fact that this visualization shows where customer satisfaction is endangered the most. Most businesses achieve that improvement with almost no effort as it mostly depends on the simplest things.
3. Internal Procedures
Apart from facilitating the path for the customer to become an ambassador, mapping the journey can enlighten the business about the internal procedures. There are a variety of teams and personnel engaged in every step of this journey and having a big picture can indeed show some spots that are demanding improvements. These rooms for improvement can either be a small task within a team or a significant process engaging numerous teams.
4. The Innovation Opportunities
One of the most valuable customer journey mapping benefits is the innovation opportunities brought to the shore. Having an idea about the entire journey will open the doors to look at it from different aspects. This will lead to the creation of innovative ideas that are worth implementing most of the time.
5. Employee Satisfaction
Employee satisfaction is a hidden gem among the customer journey mapping benefits. While you do not expect an increase in EX metrics, improving the journey and procedures can help the employees feel better as they experience an improved proficiency and see tangible results.
This article from Pisano Academy introduced the top 5 benefits of customer journey mapping ranging from CX to EX and innovation.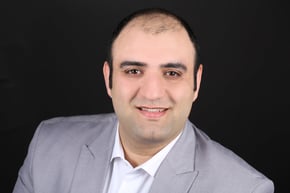 Siyavash Heidari
Data-driven, strategic, and innovative digital marketer, experienced in developing and coordinating the online presence of brands across various channels and developing campaigns to increase traffic and drive revenue. Equipped with superior SEO and content marketing skills, organic and paid marketing strategies, and product marketing techniques.