In today's fast-paced world, podcasts have become an increasingly popular way for professionals to stay informed about the latest trends and insights in their fields. Whether you are a C-level executive or an intern, the vast ocean of podcasts available contains hidden gems for you somewhere that can enhance your knowledge and expertise. The CX industry is no exception, as there are numerous customer experience podcasts dedicated to providing valuable insights that can be applied to your business.
In this article from Pisano Academy, we handpicked some of the top customer experience podcasts available that can be added to your podcast arsenal. Each podcast provides you a value that you may need somewhere through your path of customer satisfaction, so please read this list until the very end.
The CX Leader Podcast is a weekly podcast that talks about strategies and tactics used by successful CX leaders. The podcast features interviews with CX executives and thought leaders who share their experiences and best practices for delivering exceptional customer experiences. Hosted by Steve Walker, this podcast is a must-listen for anyone who is looking to become a better CX leader.
The Customer Experience Podcast is a bi-weekly podcast featuring interviews with CX experts and practitioners. In each episode, Ethan Beute covers a wide range of customer experience concepts, making it a great resource for anyone who is looking to improve their understanding of customer experience.
Experience This! is a weekly podcast from Joey Coleman and Dan Gingiss. The podcast tells stories of remarkable customer experiences and insights while providing inspiring examples which makes Experience This! a favorite show for almost anyone.
Customer Service Secrets
Customer Service Secrets is a podcast hosted by Gabe Larsen and Vikas Bhambri. The podcast uncovers highly coveted secrets interviews from customer service, customer support and customer experience professionals across industries and their insights on how to create an even better customer experience.
The Modern Customer Podcast is a weekly podcast hosted by Forbes contributor and customer experience strategist Blake Morgan. Through interviews with guests that include practitioners, authors, influencers and other tastemakers, it will discuss new topics on customer experience, social customer service and content as well as leadership topics.
The Customer Experience Show offers interviews with visionary leaders who share their insights on how to build smarter customer experiences within businesses. This amazing podcast from Caspian Studios with its remarkably different approach has so much to offer as "Each episode shares the vision and story of a leader who created innovative -- and unexpected -- ways to empower their employees and delight their customers."
Customer Experience Goals with the CX Goalkeeper is a podcast that discusses "all about Customer Experience, Innovation, Business and Digital Transformation and Leadership" through conversations with well-known CX thought leaders and experts. Hosted by Gregorio Uglioni, also known as CX Goalkeeper, you can expect to gain practical advice and strategies for improving your CX initiatives.
In conclusion, the top customer experience podcasts handpicked here to offer a wealth of knowledge and insights for anyone interested in gaining deeper knowledge about customer experience. Each podcast has its unique approach and style, but they all share a common goal: helping businesses create exceptional customer experiences. So, whether you are a CX leader, a customer service agent, or a business owner, you will find valuable insights and strategies in these podcasts that can assist you take your CX initiatives to the next level.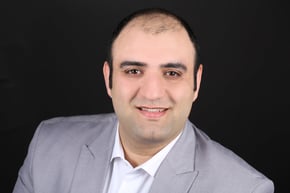 Siyavash Heidari
Data-driven, strategic, and innovative digital marketer, experienced in developing and coordinating the online presence of brands across various channels and developing campaigns to increase traffic and drive revenue. Equipped with superior SEO and content marketing skills, organic and paid marketing strategies, and product marketing techniques.