Your new logo will be the smile of your customers.
We have celebrated the CX Day all around the world with people coming from different regions, representing world's best-known brands with the experiences that they provide to their customers.
More than a celebration, we are proud to host this event as a source of trustable and valuable information and best practices in the Experience Management space.
‍Please fill the form at this page to watch the live event recording now.
All for the smile of our customers.

14:00 GMT+2 : Keynote with Doğuş Kuran, General Manager@SabancıDx
Your new logo will be the smile of your customers
14:30 GMT+2: MENA Panel - A Dream: How unique experiences became the regions' trademark?
Siddharth Biswakarma - Head of Customer Experience @ Aster Pharmacy
Serra Karaca Tileylioğlu - Customer Experience Strategy Manager @ Emirates Integrated Telecommunications
‍

15:15 GMT+2: AMA - CX is a Team Sport: Democratizing the Experience
Faran Niaz - CEO & Founder @ CX Future
Gökhan Kara - Evangelist @ Pisano
‍

15:45 GMT+2: TR Panel - Driving Experience: Will we feel like an F1 pilot or fully serviced boss with connected, self-driving cars?
Gonca Sofuoğlu Temiz - Customer Experience Leader @ Ford Otosan
Kübra Ören - Sr. Business Development Manager @ Letgo
‍

16:30 GMT+2: Europe Panel - Citizen Experience: How do we contribute to daily lives of people?
Jody Bauer - Research Analyst @ Eurail
Gabriela Ciupitu - Founder @ Customer Experience Romania
Peter Kmosko - Founder @ Monetize.CX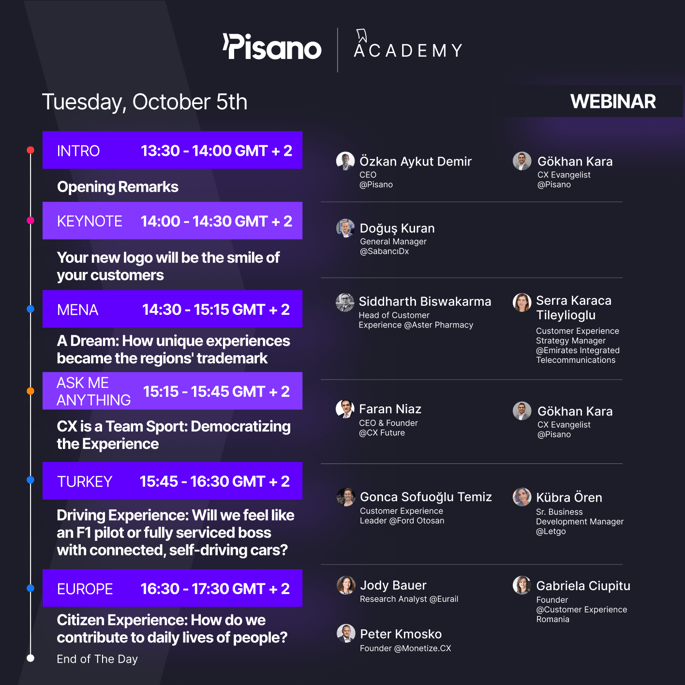 ‍
Watch Now On-Demand
‍